Tunnel liner for Koralmtunnel in Austria
Protection against ingress of water through tunnel sealing

Project name: Koralm tunnel section KAT 1
Project date: 2012 – 2013
Products: 132,000 m² AGRUFLEX tunnel liner 2,1 mm, coextruded signal layer according to the Austrian ÖVB Guideline
12,000 m water stop profile AA500/6
Introduction
With a total length of 130km the new Koralm railway links Graz with Klagenfurt. It is an important part of the Baltic-Adriatic Corridor which connects the Baltic Sea with the Adriatic. The Koralm railway is one of the major transport infrastructure projects – not only in Austria but in the whole of Europe. Due to the new high-speed railway the travel time between Graz and Klagenfurt will be reduced from currently 3h to approximately 1h.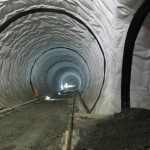 Koralm Tunnel
Without any doubt the centerpiece of the project is the Koralmtunnel. With a length of 32.9km it will be one of the longest railway tunnels in the world. It consists of two parallel tunnels which are linked with crossways every 500 m.
At the east entrance of the tunnel the section KAT 1 with a length of 2.3 km is located. This part of the tunnel was constructed using the New Austrian Tunnel Method (drill & blast). Construction started in late 2008. In order to protect the tunnel from ground water, approximately 132,000 m² of AGRUFLEX tunnel liners were installed in 2012 and 2013. Additionally, also 12,000 m of water stop profiles were used. As expected, KAT 1 was successfully completed in November 2013.
AGRUFLEX tunnel liner
The AGRUFLEX tunnel lining system stands out due to excellent chemical resistance, high flexibility and the white signal layer. In comparison to PVC the installed membrane is completely free from plasticisers, environmentally friendly in production and comfortable to install.
The geomembrane installed in the Koralm Tunnel fulfills the new Austrian Tunnelsealing Guideline (Österreichische Bautechnik Vereinigung – published 2012). A strict procedure which includes continuous testing ensures high quality during production. The excellent quality is confirmed by external test reports.