Roof liner protects retail park in Bad Hall
AUSTROPLAN roof liner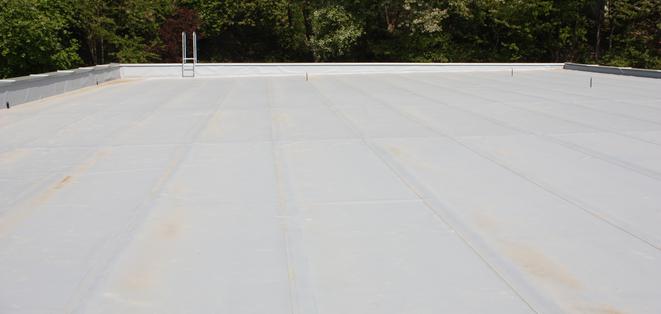 Project name: Retail park Bad Hall
Project date: 2009 and 2011
Products: 1,500 m² AUSTROPLAN F VK 1.8 mm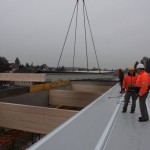 In 2009 a very interesting project with AUSTROPLAN roof liners was realised, which was practically on the doorstep. The new retail park in Bad Hall was constructed with prefabricated roof sections by the company Schmid-Holzbau. The AUSTROPLAN F VK 1.8 mm roof liners were installed during the prefabrication of the roof sections with a length of 15 m and a width of 2.5 m. Only the installation of the roof sections by means of a truck crane and the welding of the joints between the elements had to be done on-site.
In order to ensure the cleanliness of the welding surface even under rough on-site conditions, for the first time a protection strip with a width of 150 mm was used to protect the welding area of the membrane. It was removed right before the welding process. This ensured an absolutely clean welding surface and prevented elaborate cleaning. This measure was perceived with great enthusiasm by our clients. Thus all AUSTROPLAN roof liners, used for prefabricated roof elements will be equipped with protective strips for welding areas in the future.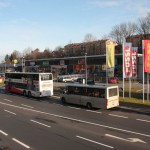 Expansion of the retail park
At the end of the year 2011 the retail park of Bad Hall was extended. Two new shops were built. The company "Schmidt Holzbau" delivered prefabricated elements for the roof for this project again. The same installation method was used. Prefabricated wooden elements with the AUSTROPLAN roof liner were successfully installed. The building will be occupied by an animal care products company and a children's clothing company.