HDPE liners for Landfill in Germany
AGRU were used for base sealing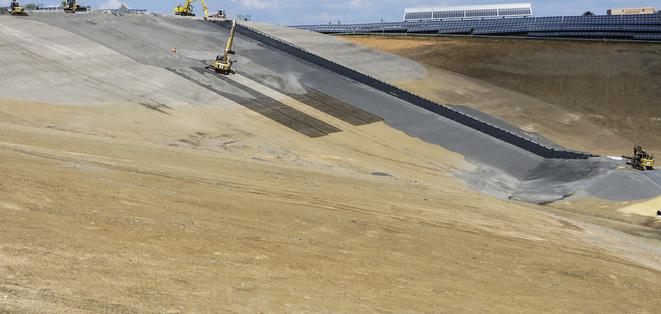 Preparation of the clay and start of the liner installation
Project date: June 2014 – End of 2015
Location: Oberpflaz, Germany
Products: 74,000 sqm structured HDPE liner, 2.5 mm according BAM standard
The landfill Steinmühle is the only of its kind in upper Palatinate, which is designated as a Class I landfill according to the German waste management system. Waste from across the administration union Schwandorf, that includes the district of Hof and the city Hof, is deposited here. Around 25,000 m³ of waste is stored here annually.
The landfill Steinmühle located at the municipality Tirschenreuth (Oberpfalz) was founded in 1971. Since 1996 only inert materials (asbestos, mineral wool, bricks, tiles, glass) are deposited here Existing sections have been closed or are in the closure. The area "C" is in operation and already equipped with the state-of-the-art basic sealing and leachate collection and conforms to the requirements of the German landfill class I.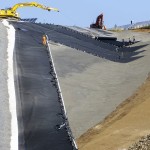 The new section "A2" is under construction and should be ready by 2016, for deposing of the waste. The section "A2" has been planed since 2012. The Company Heilit Umwelttechnik has been assigned as the earthwork contractor and the waterproofing work will be carried out by the Duba GmbH (landfill and building sealing corporation). The drainage will be optimized by constructing leachate pumping station. In addition the construction of two surface water-pumping stations with connection pipes and measuring devices will improve the situation further.
The thickness of the base sealing layer is at least 2.30 meters. To prevent seepage to migrate into the ground, the base sealing consists of a more than one meter thick clay layer and a BAM approved 2.5mm AGRU geomembrane. In the area of the southern slope bentonite liner are additionally installed.