Roof liners of AGRU in Tyrol – Austria
Tear- and weatherproof roof liners for festival hall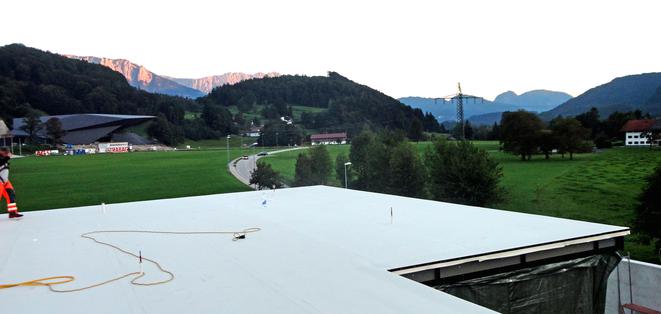 Project Date: 2012
Location: Erl, Tyrol (Austria)
Product: AUSTROPLAN FVK 1.8 mm
In the course of the construction of the festival hall in Erl, Tyrol, there was also a so-called presidential house built opposite, which functions as an event- and residential building. Atelier Grell designed this project on behalf of the Haselsteiner Family Foundation and Lukas Lang Building Technologies. The building is situated on the parking garage of the architects Kleboth Lindinger Dollnig and was opened simultaneously with the new festival hall of Delugan Meissl. Lukas Lang Building Technologies developed a construction system that is able to individually construct a building by combining prefabricated elements.
Project execution
The innovative AUSTROPLAN roof liners are manufactured from special flexible polyolefins. Contrary to PVC, they are totally free from plasticizers and halogens. AUSTROPLAN roof liners are suitable for all kinds of flat roofs. They are fabricated in different thicknesses, adapted to the application area and specific requirements.
The AUSTROPLAN roof liners are tear- and weatherproof and very easy to weld. The high life span and low maintenance costs reduce the life cycle costs effectively.
The roof liners for the flat roof of the presidential house were fastened mechanically. The individual layers of the roof system are loosely laid and fastened to the load-bearing substructure by means of fixing elements in the overlap area of the welding seams.
During the project, great co-operation between the architect and the installation company was essential. The presidential house was finished at the end of 2012. Soon after, in December, the new festival hall and the presidential house were opened in the course of the Tyrol winter music festival.