Landfill sealing system in Lower Saxony
HDPE liners for a clean sealing
Project date: July – October 2011
Location: Diepholz Aschen (Germany)
Product: 34,000 m² smooth HDPE liner, 7,000 m² structured HDPE liner, Thickness: 2.5 mm according BAM specification
The municipality of Diepholz in the center of Lower Saxony operates a landfill with attached recycling center.
From 1981 to 1989, the Landfill Diepholz-Aschen was used as a municipal landfill for solid waste. Since April 1989 other types of waste like consruction and roadway rubble and contaminated soil were added. Starting September 1998 construction materials containing asbestos were also stored here. At the End of 2001, the possibility to deposit asbestos was withdrawn.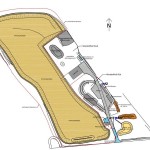 The landfill was closed and equiped with a surface sealing system in accordance with § 36 Recycling and Waste Management Act. The capping was carried out according to the multi-barrier principle. The field proven HDPE membranes of AGRU according BAM certification were used for this project.
The short construction period and the fact that the recycling center has to stay operrational was a great challange to the logistic of the project.The installation was carried out by the Duba GmbH to the complete satisfaction of the client and the engineering Institute Hydrogeology Gbr.