\
Roof liners for new trade fair halls
Fast installation, perfect result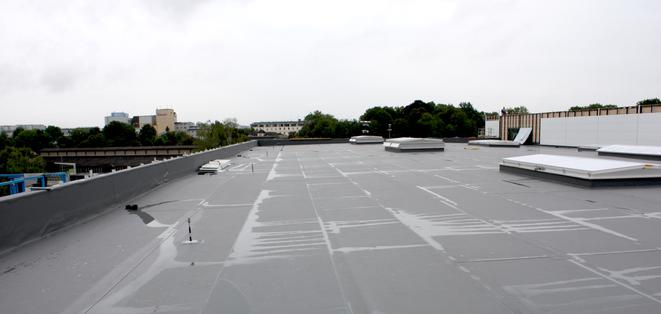 Project date: Summer 2014
Location: Wels (Austria)
Product: AUSTROPLAN FVK 1.8 mm dark grey
The trade fair association Wels is one of the top performers of the Austrian trade fair corporations. In order to stay ahead of competitors, the aging trade fair halls No. 14 and 18 were demolished and removed, and replaced by the new hall No. 21. This hall boasts more than 10,000m² of exhibition grounds and 3,000m² of infrastructure area.
This big project compromised a hall with about 10 m clear height and a concept that would allow for the hall to be flooded with light throughout the day. It needed to be realized within eight months, therefore, prefabricated roof elements of the company Gebrüder Resch were used. These elements were fitted with all necessary installations at the production site. At the worksite, they only had to be connected with the supporting structure. This kind of installation only takes a fraction of the time compared to the usual installation methods. Therefore, construction of the further halls can be started sooner, and work can also continue under sub-optimal weather conditions. Thus, using prefabricated roof elements is more cost-effective.
The AGRU AUSTROPLAN roof liners have contributed substantially in keeping to the time frame for the project in Wels. The liners were already mechanically fixed to the prefabricated roof elements and welded at the production site. That way, the insulation of the roof can be finished within a very short time after installing the prefabricated roof elements. Because the roof liners are assembled and fitted at the production site, they are welded under perfect conditions, without any weather impact. To be able to guarantee those perfect welding conditions also at the worksite, the welding areas on the roof liners are equipped with protective adhesive strip. These strips are removed at the worksite, just before the welding process. This way, optimal welding conditions can be ensured.
The AUSTROPLAN roof liners convince with first-class performance, resistance against volatile weather conditions, excellent welding performance and safe and easy installation on the roof.