AGRU HDPE products in Sarajevo
HDPE geomembranes for Gulf Resort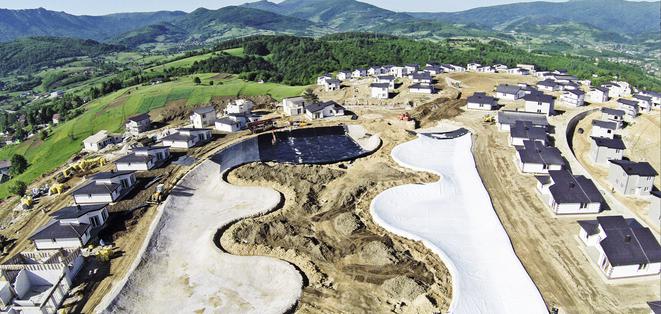 Project name: Sarajevo Resort
Project date: Spring 2015
Location: Osenik, Bosnia and Herzegovina
Products: HDPE geomembranes, smooth, 2.0 mm
160 houses around an artificial lake
160 houses around an artificial lake
The Sarajevo Resort is located in the village Osenik, in the municipality Hadžići. The geographical location, the loveliness of the land and the mountains attract investors since twenty years.
The Sarajevo Resort is in the final stage of construction. The resort includes 160 houses for approximately 1,125 guests. The main attraction is an artificial lake with a surface area of 12,000 m² in the centre of the resort.
For waterproofing the lake an HDPE geomembrane with a thickness of 2.0 mm was used. Due to excellent long-term experience, the high durability and easy installation, HDPE geomembranes from AGRU were selected for this project. The installation and welding was done by the local company Geoworks in a very profession way during spring 2015.
In September 2015 the construction of the Sarajevo Resort will be finished. Special thanks to our great cooperation partner Geofelt (Mr. Günter Göhring) for the important assistance. This € 25 million project is one of the biggest investments this year in Bosnia and Herzegovina.