Geomembrane for heat storage pit of a solar system
Heat storage with temperature resistant geomembrane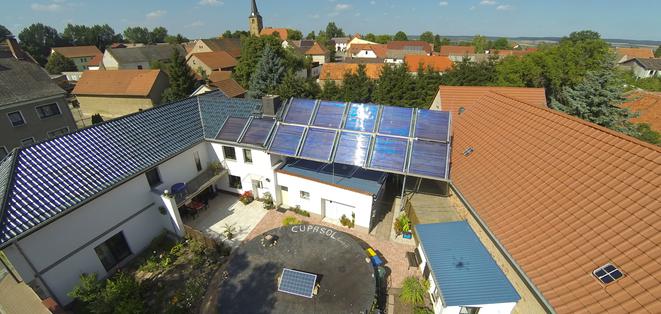 Project name: Solar system with long-term heat storage
Project date: April 2012
Products: High temperature resistand (HTR HDPE) geomembrane 2.5 mm thickness
Introduction
Cupasol GmbH was founded in 2011. The company designs and builds long-term heat storage facilities as well as solar thermal systems. The projects range from smaller systems for private homes to large scale power plants. Using large heat storage pits significantly increases the efficiency of solar thermal systems.
The challenge
In Rudersdorf (Germany) a solar thermal system with 60 m² of solar panels and a 140 m³ hot water storage pit had been operating for some time. To improve the system it was decided to use waterproof lining on the inside of the storage pit. A geomembrane was needed that could withstand temperatures of up to 90°C.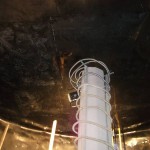 The solution
Until now 60°C has been the recommended maximum sustained operating temperature for HD-PE geomembranes. Temperatures in excess of 60°C accelerate degradation and oxidation and lead to early failure. AGRU has successfully produced hot water pipes for many years. With this vast knowledge and experience, AGRU developed the first High Temperature Resistant (HTR HD-PE) geomembrane in the marketplace.
Cupasol selected the HTR geomembrane from AGRU for the internal lining of the heat storage tank. In April 2012, the installation of the geomembrane with a thickness of 2.5 mm was completed successfully. Since then AGRU's HTR geomembrane is performing as designed and is expected to do so for years to come.
Properties
High Temperature Resistant geomembranes are welded and installed like traditional geomembranes and they provide the same level of performance properties. Only specially approved and selected resins are used for producing HTR geomembranes. A special molecular structure combined with high quality stabilisation leads to outstanding long-term performance at elevated temperatures. The compound used was tested according to ISO 9080 and complies with DIN 16833 (PE-RT). This guarantees excellent long-term strength and good temperature resistance.
Outlook
Due to the improved life-time at elevated temperatures, HTR geomembranes can provide long-needed solutions for industries and applications where higher temperatures are needed. Possible applications include (but are not limited) to the following:
Power generation from renewable resources (solar thermal, biomass, geothermal, …)
Hot water storage
Industrial waste water and process water
Bioreactor landfills
Oil and gas industries
Mining operations and heap leach facilities