PE 100 pipes for mining industry in Finland
Piping system with excellent chemical resistance
Project Name: Nickelmine Finland
Project Date: 2008
Product: PE 100 pipes, PE 100 moulded fittings, PE 100 e-moulded fittings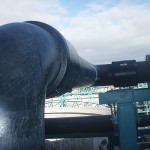 Lots of aggressive chemicals are used in the mining industry. Polyethylene in this case offers a number of advantages such as a long lifetime and excellent chemical resistance.
Pipes, fittings and electrofusion fittings made of PE 100 from OD 40 mm up to OD 630 mm have been used.
Machined electrofusion couplers of the dimension OD 450 mm and OD 500 mm, were installed without tension belts. Due to the chemical resistance and the suitability of operating in a wide range of temperatures, the material PE 100 was chosen.