Pipe bursting technique in Bad Hall
Sureline pipes for a main water line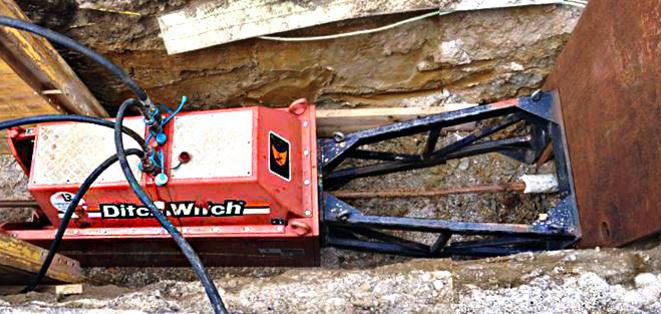 Year of installation: 2014
Material: Sureline with protective layer (PE-100-RC + PP-R)
Dimension: DA 110 mm SDR11
Medium: potable water
Temperature: 10 °C
n summer 2014 the main water pipeline in the Grünburger Street in Bad Hall was replaced using a trenchless installation technology. The existing pipeline made of steel or asbestos cement became leaky and incrusted over the years.
To ensure a good quality of water, the existing pipes were replaced with a polyethylene (PE) pipe. Pipes made of PE are physiologically safe, flexible and the forming of deposits in the pipe is highly unlikely.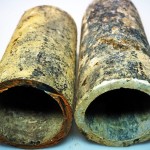 For the installation the Sureline with protective layer pipes from AGRU were used. The core pipe of the Sureline with protective layer is made of PE 100-RC and is covered with a PP protective layer. It is especially suitable for trenchless installation methods, because the core pipe is protected from scratches and cuts during the installation by the protective layer. Additionally, PE 100-RC offers an outstanding resistance against the slow crack growth.
For the installation of the new pipeline the pipe bursting (berstlining) technique was selected. During the process of pipe bursting the existing pipe gets burst and replaced with a new pipeline. Depending on the soil type, an enlargement of the cross-section of about 30 % is possible.
Single steps of a pipe bursting technique.
Cutting the pipe – bursting the pipe – pulling the new line.

Before the installation, the single pipe sections are joined using the butt welding method. Afterwards a system of rods gets pulled through the existing pipeline and a bursting head with the attached new pipeline is connected to the rods. In the next step the rods are pulled back by a hydraulic power unit in the exit pit. During the process the old pipeline is cut (steel pipes) or burst (ceramic or asbestos cement pipes). For better gliding properties during the installation the new pipeline is coated with a lubricant.
By using this method a 100% tight and long-lasting pipeline is installed without any massive traffic disruption.