Piping system & sheets for tank in Turkey
Pickling plant counts on PE-HD, PP and PVDF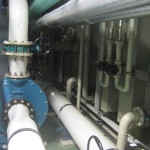 The company ASAS Alüminyum is one of the market leaders in Turkey for the anodisation and powder coating of aluminium profiles. Based on a fully automated line system up to 3.6 million m²/year of profiles can be anodised and up to 18,000 t of powder can be processed. Company Gezer Endüstri Insaat installed piping systems and basins made of HDPE, PP and PVDF, which were provided by AGRU Kunststofftechnik GmbH. The project started in May 2009 and lasted for one year. Operating acids in the basins are 5 % NaCl and 20 % HNO3 at a temperature of 50 °C. The piping system transports exhausted air and oleaginous wastewater between 10 °C and 30 °C at maximum pressure of 9 bar.
The surface pre-treatment of aluminium for anodisation and powder coating is done by pickling the metal surface via inorganic acids, which is called pickle liquor. For this process, mainly hydrochloric, sulphuric, nitric, chromic, phosphoric and hydrofluoric acid are used. This etching process removes the natural oxide layer as well as impurities such as stains, inorganic contaminants and rust of the aluminium surface from ferrous metals, copper and aluminium alloys.
Due to its excellent chemical resistance against inorganic acids, thermoplastic material is frequently used for pickling processes. Sheets made of PP and PVDF are used to manufacture pickling tanks. Piping systems for process control lines made of PP and PVDF, as well as ventilation pipes out of PP, PP-s and PVDF are also installed.
The final refinement within of anodisation process is done via electrolysis. In this process, attached DL is used to anodise the material within sulphuric or oxalic acid and as a consequence top metallic surfaces become aluminium oxide. Furthermore, the aluminium can also be powder coated, which means that powder lacquer will be used to cover the electrostatically charged material. Then the aluminium profiles will be transported to a drier via rail system in order to cure the powder.