Water tank with HYDROclick in Poland
Concrete sealed by HYDROclick
Project name: HYDROCLICK Poland
Project date: Tank 1: 2009, Tank 2: 2010
Products: HYDROCLICK, blue PE80, thickness 4 mm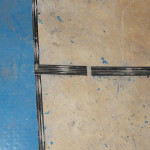 The potable water tanks in Swidnik were in a bad condition (concrete degradation) and needed rehabilitation. Concrete layers or coatings corrode, require maintenance and influence the water quality.
They were looking for a better way to rehabilitate-with more economical and environmentally friendly materials too. They finally made the decision in favour of HYDROclick.
The properties of HYDROclick are perfectly suited for this purpose as it was especially developed for the lining of potable water tanks. HYDROclick is made of blue PE 80, which is recyclable, flexible (easy installation) and has a durability of +100 years.
Moreover HYDROclick makes a preparation of the Tank's surface obsolete and redundant, respectively. It can be installed immediately and so the first tank was lined with HYDROclick.
Additionally AGRU supported the customer with installation and welding trainings held by AGRU's project supervisor prior to the project. The first few months of operation went according to plan.
The positive experience with HYDROclick led to the decision to use the product again – for the lining of the second tank in 2010. The project was carried out successfully from start up to the end.