Concrete protective liner protects tank in India
Concrete successfully protected by AGRU SureGrip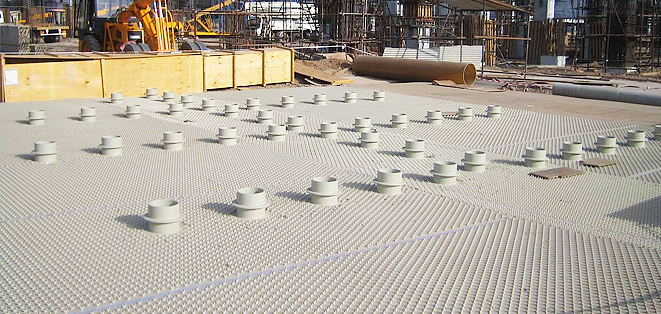 Project name: Jerp (Jamnagar Export Refinery Project)
Project date: 2007
Concrete protective liners: 350 m² ECTFE SureGrip 2.5 mm, 120 m² PP-R SureGrip 5.0 mm
In the course of new development of the refinery Jamnagar (India) belonging to the Reliance petro chemistry group the design engineers of Bechtel were looking for an applicable lining material for the area of the sulphuric acid neutralization tank fulfilling highest requirements concerning durability at temperatures up to 120 °C as well as chemical resistance to highly concentrated sulphuric acid.
Already in 2005 the Dutch plastic-fabricator Versteden, with high skilled welders and experience in processing fluoropolymers has executed a similar project with AGRU ECTFE SureGrip at Exxon in Antwerp. AGRU SureGrip concrete protective liners were specified due to the positive experience at this neutralization tank which was about 100 m² and therefore significantly smaller than the Reliance project.
To ensure the best possible welding quality and to safe costs and time the fabricator did pre-assemblies of the wall, the floor and the ceiling-elements in their own workshop. These pre-manufactured units were shipped in boxes directly to the site.
The ECTFE SureGrip wall elements were fixed onto the formwork, welded among each other and then casted. The three sheeting units of the ceiling were finalized with PP pipe penetrations on the especially prepared mounting area.
For the tight transition of ECTFE lined walls and PP ceilings a specially designed and qualified flange sealing system was installed.
After the casting of the ceiling and the curing of the floor sheets the grout injection method, with a special non-shrinking cement-grout suitable for these operating conditions, was used.