KS Tools
For 22 years, KS Tools being a modern tool supplierhas continuously provided everyday's solutions and innovative toolsfor the consistently changing requirements in our high-tech daily life.
The impressive quality, the excellent engineering for comfort and control, as well as the competitive pricing, are very much appreciated by numerous users all over the world.
Well over 320 members of staff are working in our modern central administration building with 2000m² of latest state of the art offices.
Their high rack logistics centre with more than 9000 m² of warehousing space, guarantee's excellent stock availabilty and short lead times.The sophisticated lay-out and equipment provides sufficient capacities for future challenges and growth.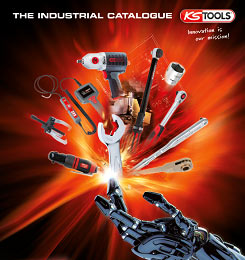 Due to their sustained growth, the growing number of excellent trade partners benefit from our very comprehensive program of standard tools and machines as well as the advantage of our capability for specialized equipment.​
In order to communicate this development, we have totally redesigned our catalogue for your optimization.The K15 has a modern optic and is designed for ease of use. It contains more than 800 pages with well over 17,000 products from our "world of tools".​
The clear structure of the tool categories results in an easy and quick identification of the required tools.The simple navigation shows you the way to the different brands and product lines and the special features and benefit.
KS Tools paid extreme attention to the abundance of technical information and descriptions included.You will find the ideal tools suitable for your specific requirements at all times - no matter how obscure the application.​
KS Tools want to maintain and grow this partnership for the future - in accordance with their believe
KS - Competence and service at its best.​