Semiconductor / Photovoltaic / Life Science
The most demanding field for cleanliness and resistance. The extremely smooth inner surfaces and excellent leaching behavior with the high-grade material characteristics determine the unique quality of our PURAD products for use in ultra.
The increasingly varied areas of application for solar technology and the production of flat screens, as well as the increasingly severe hygiene conditions in the food industry require the best solution our PURAD range of products.
Specially developed welding systems guarantee quick, durable and unconditional high-quality processing.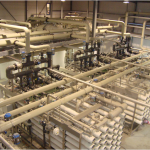 The PURAD piping system is used for th transport of ultra high purity media and exhaust duct in semiconductor, life science and food industries. Purity, chemical resistance and safety are the key benefits of the AGRU PURAD product line.
PURAD piping systems have been proved worldwide to fulfil even the most critical applications and safety requirements.
Product Solutions:
Polypure ( PP natural, unpigmented )
Welding Technology

SP 110-S
Unique infrared welding equipment for OD 20mm (½")
up to OD 110mm (4")
(PE 100, PP, PP-n, PVDF, ECTFE, PFA)

SP 250-S
For large pipe diameters OD 110mm (4") up to
OD 250mm (10")
(PP, PP-n, PVDF, ECTFE)

SP 315-S
For large pipe diameters OD 110mm (4") up to
OD 315mm (12")
(PP, PP-n, PVDF, ECTFE)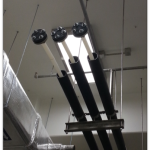 Agru offers a wide range of single and double containment piping system to meet the most corrosive applications. The high chemical resistance, the large temperature range and the ease of installation are only a few essential advantages for the Agru INDUSTRIAL product line.
Product Solutions:
Agru Double Containment System
Semi-Finished Products Assortment of materials for tank fabrication and tank lining
Agru PVDF Vent is designed for ventilation and exhaust systems that transport corrosive fumes. It is FM 4910 approved which is inline with the current stringent requirements.
Products Solutions: